Aligners for the young and old:
Did you have braces as a kid? Do you remember, those metal brackets that hurt your mouth? No thanks! Don't subject your kids to that, modern dentistry has evolved to give you transparent, comfortable aligner plates instead!
Today, Aligners have been taking the dental industry by storm because not only are they more comfortable, but they're affordable, convenient, and faster than traditional braces. In this blog we'll cover what is an aligner, and how does it work? How long does treatment take with aligners? Can you eat popcorn or ice cream with aligners and where to order premium quality aligners at a discounted price?
Visit Partha Dental for the best aligner treatment in town.
Aligners are the new age way ortho treatment for dental alignment. If you are looking out for a high-tech and convenient way of teeth alignment then aligners are the perfect option. One of the main advantages of this technology is that it takes a shorter duration to correct spacing and misalignment issues as compared to traditional braces.
Aligners for the young and old – The popularity of Invisalign aligners that are transparent and convenient has skyrocketed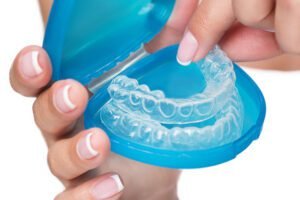 due to their simplicity, comfort, and effectiveness without the hassle of traditional braces.
If you are thinking about what kind of orthodontic treatment is the best for you, then know that to find affordable, transparent aligners for your kids!
What is an orthodontist? Basically, he or she is a technological dentist who has a strong specialization in teeth alignment.
These professionals fulfill their work as dental practitioners and also are specialized to treat disorders like crooked teeth, overbites, underbites, jaws imbalance, etc. The best part of these experts is the permanent or fixed solutions they provide for crooked teeth. They are the ones to put aligners and Partha Dental has the best orthodontists in town!
If you are wondering whether aligners are the right treatment option for your child or yourself, it is time to find out. Aligners are becoming very popular these days and many people are turning to this noninvasive orthodontic braces alternative for their betterment and a good smile for their kids.
Aligners can be great for kids or adults with less than-average dental conditions or even an already aligned oral condition who wants additional improvement in their smile.
Have you ever had a slight overbite, or struggled with trendy looks of keeping your teeth pearly white? If so, then you need to know about dental aligners, the new-age braces which have been in use for a few years now. Unlike the traditional and conventional way of fixing an orthodontic problem ie braces, these are removable aligners and can be worn like retainers.
Aligners for the young and old:
Listen to one of our patient's tav, Mrs. Gowri Reddy,
"I was looking for a way to straighten my teeth a few years ago. I wasn't satisfied with how far traditional braces had come for me. My teeth were uneven even though I had worn braces for over a year before getting aligners from Partha Dental, now I gave the perfect teeth I always wanted !"
Whether it's kids or adults, traditional braces are not a big deal for many people. Even when individuals know about the concept of aligners and Invisalign, they might still prefer the old-fashioned metal braces over their new-age counterparts. But is there more to this preference than meets the eye?
Aligners for the young and old – Are you looking for a fast, easy, and safe way to straighten your teeth?  The verdict is in – aligners are the most effective, affordable, and convenient way to straighten your bite.
Corrective Orthodontics at Partha Dental is known to be less expensive and more comfortable for the patient. However, Aligners have made life so much easier and more comfortable for patients. Many children too prefer to resort to an orthodontic treatment that is not a major pain in the mouth while they are already going through growing pains.
So for the best alignment of teeth for your kids and teenagers, visit Partha Dental Clinic today